South Quay, Hayle – Winner of Regional Awards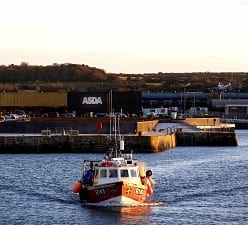 We are pleased to announce that the Hayle Harbour redevelopment has won the RIBA Building of the Year and LABC Best Large Commercial Building as well as being nominated for the ICE 2015 Project of the Year. These awards recognise construction projects which stand out for their physical achievement, innovation and promote excellence in the engineering profession.
The site located in south-west Cornwall is being progressively regenerated from a derelict condition to a mixed use development scheme that will provide much needed jobs, public amenity space, environmental enhancement, and tourism to the town. The first stage of the regeneration process was the restoration of Hayle's historic quay following its closure in 1977.
Dunton Environmental were engaged by Bowmer and Kirkland to undertake enabling works at Phase 1 of the South Quay development. This work included the creation of a flood platform for an ASDA foodstore, car parking, restoration of the quay walls and reinstatement of the historic harbour sluicing infrastructure. The contaminated fill on-site was successfully recycled and reused within the development reducing risks to the environment and safeguarding the development from storm surges and seal level rise.
Over two acres of new public realm has been created with wide quayside promenades and a performance area to host public events. The listed quay walls have been repaired, including the rebuilding of the symbolic collapsed section that faced the town – its completion a key moment for the local community. Harbour
Dunton's wide range of experience in land restoration enables us to use our unique products and techniques in combination to facilitate complex brownfield civil engineering works.