Client: Interserve / MPB Structures
Location: New Sandwell College Spon Lane, West Bromwish
Contract Value: £550K
Dunton Environmental uses Bio-accelerator and Regener8 technology to successfully convert 25,000 tonnes of contaminated waste soils into inert soils.
THE CHALLENGE
The Development which was the construction of the new Sandwell College, West Bromwich, included a basement type excavation which would generate approximately 25,000 tonnes of waste soils contaminated with hydro-carbons and heavy metals.
The initial estimated costs for disposal off site were £1,5 million.
Furthermore, given the nature of the site, long term stockpiling of soils and treatment were not feasible as this would have held up the overall development programme. Therefore, a solution was needed which could reduce a variety of contaminants in a very rapid timescale under restricted site conditions.
OUR SOLUTION
Dunton Environmental was involved at pre-contract design.
The remediation strategy was integrated into the development advance works programme.
Proposals for utilisation of Dunton's bio-accelerator and Regener8 technologies for the degradation of the hydrocarbons and the heavy metals were presented to the Environment Agency for approval.
Works commenced and Dunton utilised their bio-accelerator technology to rapidly reduce the hydro-carbon contamination.
FINANCIAL AND GREEN BENEFITS
Potential liability: £1,500,000.00
Dunton's solution: £550,000.00
Saving: £950,000.00
Volume diverted from landfill: 25,000 tonnes

Interserve is one of the world's leading support services, construction and equipment companies. They offer advice, design, construction, equipment, facilities management and frontline services to public and private-sector clients in more than 40 countries.
THE RESULTS
Hydro-carbon contamination levels were reduced on average by more than 70% over an average timescale of 3 weeks.
Heavy metals contamination was reduced by more than 50% within an average timescale of 2 weeks.
Project programme was 13 weeks and within that period 25,000 tonnes of contamination were excavated, screened, processed, treated, tested and disposed off site to various inert type landfill sites.
The net impact was a 65% savings on their site regeneration costs.
Dunton Environmental specialist technologies helped significantly reduce the client's project cost within a timescale that did not adversely affect the overall site programme.
Dunton Environmental was able to divert a substantial volume of contaminated waste from Hazardous Landfill, via accelerated bio-remediation of hydro-carbon contamination and via Dunton's regener8 technology which rapidly reduced the heavy metal contamination via chemical oxidation, ionic exchange and metathesis reactions.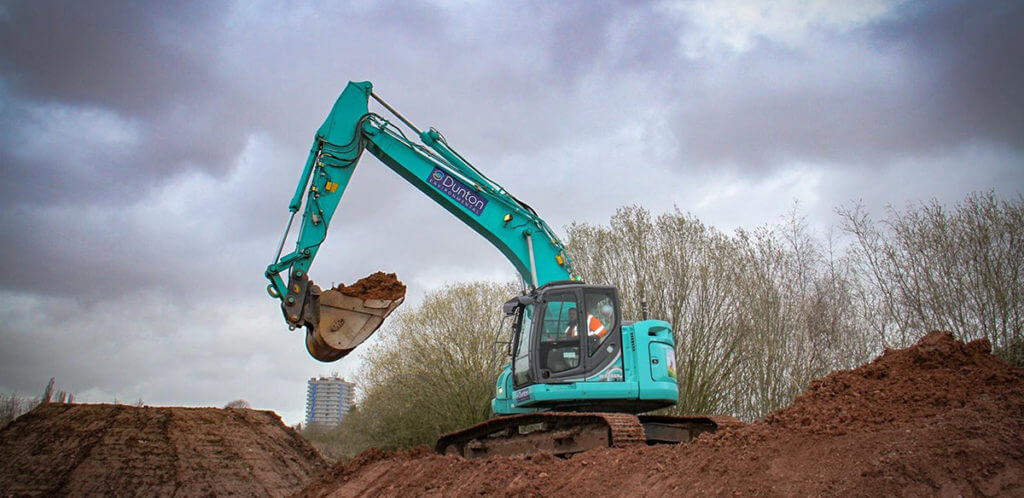 "Dunton are specialists in the remediation sector and have successfully delivered innovative solutions to overcome remediation challenges on a number of our developments past and present."
Alex Vicary MRICS
Associate Director – Technical
Crest Strategic Projects