A Short Guide to Understanding Hazardous Waste Transfer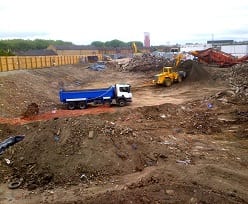 Hazardous waste, if mismanaged, can cause greater harm to the environment and human health than other waste streams. Strict controls apply from the point of its production, to its movement, management, and recovery or disposal.
Waste (England and Waste) Regulations 2012, requires waste producers to apply the waste management hierarchy. Disposal of waste into landfill without energy recovery is the least favoured option. Dunton Environmental operates nationwide treatment facilities which not only are exempted from landfill tax, but also are a more favourable option of dealing with hazardous waste. This enables you to remove hazardous material at significant cheaper rates compared to landfilling.
Producers of hazardous waste are obliged by the law to produce a Hazardous Consignment Note for each load of hazardous material moved.
Hazardous consignment note parts:
Role Task Part you must complete
Producer Source of waste A & B
Holder Stores waste A & B
Carrier Collect and transport waste C
Consignor Hand the waste to the carrier D
Consignee Receives waste for recycling or disposal E
If you are the waste producer or holder you will need to know the following codes:
• SIC Code (2003) – this describes the business activity that produced the waste
• EWC Waste Classification Code, also referred to as LoW (List of Waste) – this provides an accurate description of the waste
• Premises Code – code assigned to the site as a hazardous waste producer
Waste material that would otherwise be disposed of at landfill can be treated at our facilities for re-use in restoration projects or other environment improvement schemes. The treatment process provides Clients with significant cost savings as treatment activities are exempt from landfill tax charges. Furthermore, our treatment centres provide sustainable solutions to the challenges of wastes management. Contact us for further information on how we can assist you on any waste-related project challenges.