Sainsbury's River Diversion Works Completed
As part of Sainsbury's major redevelopment of Churnet Works in Leek, Staffordshire, Dunton Environmental has successfully created an attractive riparian environment by successfully diverting the River Churnet to flow through the new scheme. The overall development provides a huge range of benefits to the local community, including much needed housing and employment accommodation, additional shopping facilities to complement the town's existing offer and a significant area of attractive public open space. A number of listed structures were also retained and enhanced by attractive river walks and green open spaces.
The total river length was approximately 300m and Dunton's remit was to keep the river flowing during the construction phase. The work was commissioned by London-basedMace Group and involved a combination of:
River-wall demolition works,
Construction of a temporary dam and diversion channel,
Management of fish pass and rescue works,
Excavation and realignment of the existing river course,
Engineered fill of the old watercourse, silt management, and site re-profiling works.
Excavated silts and soils were managed on-site in accordance with the EU waste management hierarchy.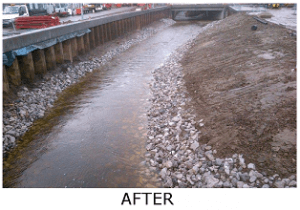 The works were completed within program, over a period of six months allowing the new Sainsbury's store to open its doors to the local community in January 2013.
Dave Boyle, Mace's Commercial Manager said: "Dunton are a very good Company to work with, methodical in their works and pro-active in coming forward with alternative construction options."