Client: Longport Developments
Location: Saltpans Development, Guernsey
Contract Value: £58,000
Dunton Environmental utilises eradZion8 and eradicate technology to successfully remove Japanese Knotweed from the site, saving the Client more than 50% of their initial liability.
During the redevelopment of the former industrial site, Japanese Knotweed from the adjoining site had been inadvertently spread onto the Client's site.
The Client had previously engaged the services of a landscape gardener to spray the knotweed with a low grade herbicide, with little success.
The knotweed was located within the critical path of the development programme – therefore a rapid solution was required.
The estimate of costs to excavate and dispose off site were in excess of £120,000.00.
Furthermore, the Japanese Knotweed located on the neighbouring site boundary would continue to re-infest.
Our Solution
Excavation and treatment of 600m3 of soils containing free product with Bio accelerator™.
Treatment of encountered groundwater prior to re-use for dust suppression.
Excavation of asbestos impacted soils and removal and disposal of asbestos containing material.
Removal and disposal of 324m3 of Horsetail from the south eastern site boundary alongside the river.
Re-engineering of the ground surface including cut and fill to requested levels and highways standards, and the construction of pile mats.
The Results
100% Soils reused on site
1,000 tonnes Treated knotweed contaminated soils within a 4 week timescale
Treated knotweed contaminated soils within a 4 week timescale
In-situ eradicate spray programme was completed within 1 growing season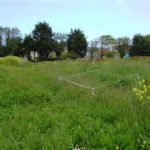 "We have known the Dunton team for a number of years and I've personally worked with them on a few of these schemes. They are a good, clear and knowledgeable partner who have brought innovation and efficiency to our ground regeneration schemes, hopefully they will be able to provide you with the same benefits."
Nick Gibb LLB (Hons) APMP MRICS
Deputy Managing Director
Willmott Dixon Construction