Jaguar Land Rover Car Despatch Solihull
Client: Vinci Construction UK

Location: Jaguar Land Rover Car Despatch Solihull, West Midlands
Contract Value: £20,000
Challenge
The sites topography was such that there was circa 15m of gradient fall towards off-site surface water course.
Duration of the project was over wet periods (November – April); hence heavy rain falls were encountered.
Existing perched ground water management across the site utilised open ditches and balancing ponds from which water dissipated into a nearby surface water course.
Downstream of the site in the nearby surface water course stream was a crayfish colony protected under national legislation.
Near surface geology at the site comprised Mercia Mudstone, and following site strip of topsoil the surface runoff from the mercia mudstone required managing and treating.
Suspended solids in the perched ground water demonstrated very slow settling velocities (<0.013m/hr) along with colloidal matter which is none settling. Total Suspended Solids (TSS) were recorded as typically 950mg/litre. It is worth noting that clay particles have electrostatic forces which cause them to repulse from each other, trapping them in suspension.
The discharge consent into the nearby water course required TSS of less than 50mg/litre and a pH value to be between 6 and 9.

VINCI Construction UK is a specialist civil engineering, construction and facilities management company. Part of the global VINCI Group, they are known for the innovation, creativity and technological mastery with which we tackle the most complex of projects.
Our Solution –
Containment of surface water at the lowest gradient on site, in effect generating a settlement lagoon, to allow quick settling solids to fall out of suspension, whilst leaving the slow settling solids within the suspension.
To treat the suspended solids DEL needed to overcome the inter-particle repulsion forces. This was completed by chemically treating the water with coagulants and flocculants, through chemical addition and aggregation the individual clay particles combined into larger created particulates.
Laboratory trials were undertaken to determine the optimum chemical treatment.
The larger combined particles were then separated from the water through a lamella clarifier.
The 'clean' water then required pH treatment to ensure the discharged water complied with the pH discharge criteria.
The separated larger combined particles were re-used on site following lime and cement stabilisation treatment.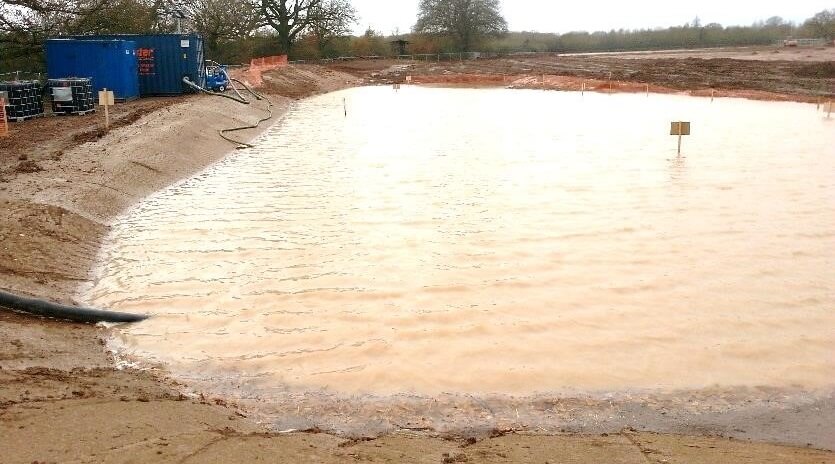 "We have known the Dunton team for a number of years and I've personally worked with them on a few of these schemes. They are a good, clear and knowledgeable partner who have brought innovation and efficiency to our ground regeneration schemes, hopefully they will be able to provide you with the same benefits."
Nick Gibb LLB (Hons) APMP MRICS
Deputy Managing Director
Willmott Dixon Construction