West Midlands First Soil Treatment Hub Opens For Business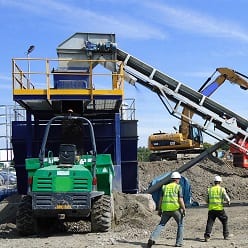 Dunton is pleased to announce the opening of a new fixed Soil Treatment Facility (STF) in the heart of the UK.
In partnership with Wolverhampton City Council, the new treatment facility is permitted to process up to 200,000 tonnes per year of contaminated soils and other waste materials. It will operate under the Development Industry Code of Practice and can perform the role of a Hub site within a defined Cluster project. This facility is designed to stimulate the regeneration of contaminated land in the UK by providing a commercial and sustainable alternative to landfill.
A wide range of contaminants can be treated including hydrocarbons (petrol, diesel, oils, etc), heavy metals, asbestos and soils contaminated with Japanese Knotweed and other invasive plant species. The use of our most innovative remediation technology ensures we deliver significant financial and environmental benefits. Further information is contained within this Factsheet.
An official opening ceremony will be held on Friday 18th September 2015. If you would like to attend this event please contact our Waste Services Dept at wastehubs@duntonenvironmental.com.uk or call our Head Office on 0121 356 4360.
Further information on our expanding STF network is available at our soil treatment website www.soil-treatment.co.uk